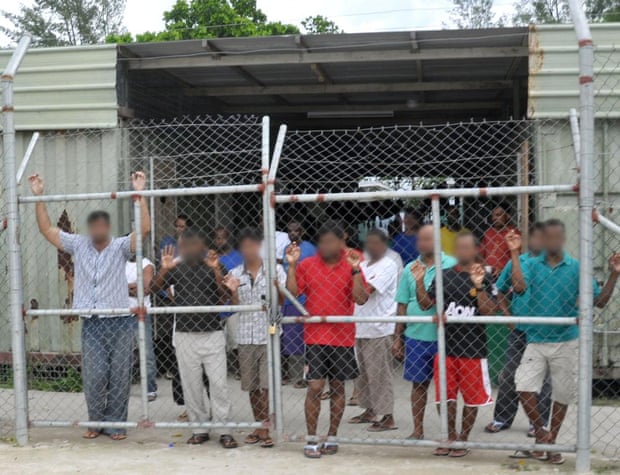 A guard at the Manus Island detention centre has said Muslims should assimilate and has shared an article suggesting they "cannot be Australians" in a series of Facebook posts that appear to support the Reclaim Australia and boycott halal movements.
John Akrigg was contracted by Wilson Security on behalf of Transfield Services to work on Nauru in February 2014, and recently listed a change in his employment to the Manus Island detention centre.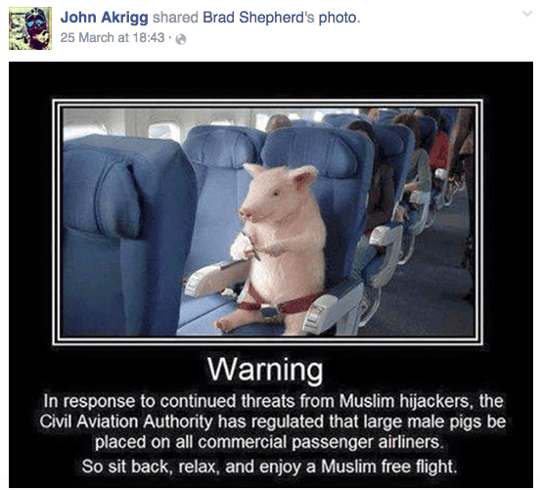 Over the last 12 months he has posted several articles and comments that appear to indicate support for a campaign to boycott halal food and stem Islamic immigration in Australia. Several posts are images sourced from pages hosted by Reclaim Australia, which recently led protests across the country against halal certification, sharia law and increased Muslim immigration.
In one post Akrigg shares an image that depicts a large pig on a plane, with the words: "In response to continued threats from Muslim hijackers, the Civil Aviation Authority has regulated that large male pigs be placed on all commercial passenger airlines. So sit back, relax and enjoy a Muslim free flight."
In another post, Akrigg shares a petition he signed supporting the banning of halal certification in Australia. At the top of the post he says, "I want them to assimilate, but they won't".
A further post from the "Australian – love it, or leave" page depicts a fighter jet in flight with the words "Aussie halal delivery service … get it while it's hot."
Another post he shares from the islam4infidels website says, "Moslems cannot be Australians".
In a December post he says, "Me in my infidels shirt, isn't that what we are? I hope this offends some religious nutcases as it seems to do." An emoji of a bomb is pictured next to the comment.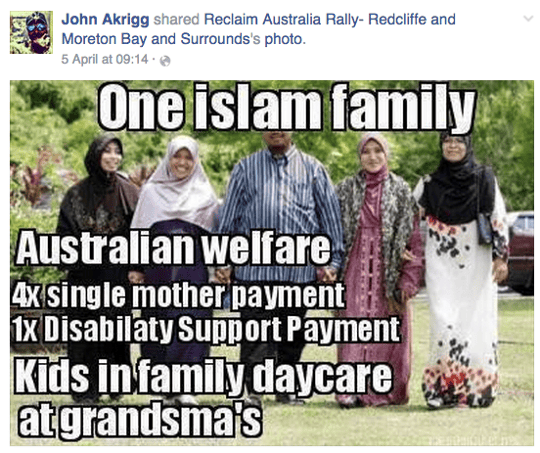 The comments appear to be in breach of a new social media policy instituted by Transfield Services, which has been tasked to manage the offshore detention centres and subcontracts security services to Wilson Security.
The policy states that a worker must not post on social media any material which "may damage the business or reputation of Transfield Services, or injure its relationship with the department".
It adds that Transfield Services "will treat any breaches of this policy very seriously. A breach of this policy may result in disciplinary action up to and including instant dismissal."
Comment has been sought from the Department of Immigration and Border Protection, Transfield Services and Wilson Security.
In 2014, several guards on Manus Island ridiculed an asylum seeker who swallowed a pair of nail clippers in a self-harm attempt. The guards were all dismissed by the private contractor then managing the centre, G4S Security.
via Manus Island guard expresses Reclaim Australia and anti-halal sentiment | Australia news | The Guardian.