Quietly, two weeks ago, a Tamil woman called Ranjini and her toddler son walked free from the gates of Villawood detention centre.Her son had never known a day of freedom in his life. Ranjini, a former member of the Sri Lankan separatist Liberation Tigers of Tamil Eelam, who had previously been living in Australia, was held in detention for more than three years without charge or allegation.
While incarcerated, she was never told why she was being held – only that she had been assessed as a threat to national security – and when she was released she was not told why she was now free to go.
Ranjini lives in Sydney, attempting to restart a life interrupted. She is free, but the system that held her is unchanged.
An unknown number of other people – believed to be at least 12 – are held under the same regime as Ranjini, deemed "adverse security assessed" by Asio and so denied a visa, but unable to know why they are being held, or to challenge their detention.
Some have been held for up to six years, without ever being charged or brought before a court.
The United Nations human rights committee says the regime is illegal, and has previously directed Australia to release those it is holding.
At one stage, up to 55 people were believed to be held under the regime. Most were Tamils who had links to Sri Lanka's LTTE. But many of those links were tenuous, and some were unavoidable.
In the war-ravaged north of Sri Lanka, it was often impossible to escape involvement in the LTTE's activities: the organisation functioned as a de facto state in the 15% of the country it controlled, running schools, hospitals, courts and police forces, imposing taxes, seizing land and boats to assist the war effort, and forcibly conscripting soldiers, even children, from Tamil families to fight.
On Asio's assessment, any link was often sufficient for detention, even though the LTTE had never committed an act of violence on Australian soil, and was never proscribed as a terrorist organisation by the Australian government.
On information known publicly, one Tamil man was detained when he came to Australia because he was a lawyer for the LTTE's civil administration, another because he dug ditches on LTTE orders for civilian Tamils to shelter in during air raids by government aircraft.
Over the past two years, Asio has lifted dozens of adverse assessments on refugees, and the government has quietly released them.
It is believed that nine of the detainees adversely assessed by Asio, all Tamils, are refugees. Most are in Sydney.
But at least three other people on student, partner or working visas have been summarily detained under the same regime.
Most have jobs and homes in Australia. Many have spouses and children who are Australian citizens.
Asio declined to comment on the number of people in these circumstances, stating only that an adverse security assessment was a recommendation to the Department of Immigration and Border Protection not to issue a visa, but is not a "recommendation on the detention or otherwise of the subject".
On matters of detention, Asio directed Guardian Australia to the department, which did not respond to questions.
Ranjini's story
Ranjini was a child when she was recruited to the Liberation Tigers of Tamil Eelam, better known to the world as the Tamil Tigers.
For 26 years from 1983, the Tigers waged a brutal insurgent war in Sri Lanka, using forced conscripts, child soldiers, suicide bombers and attacks on civilians to prosecute its campaign for a Tamil homeland.
From the age of 11, Ranjini was "heavily indoctrinated" into the separatist army, and after school completed three months of military and basic weapons training – including being trained to use an AK-47 and in karate.
Ranjini says she spent about six months as an active participant in the war, acting as a supply officer in at least two battles against government forces.
Asio would later allege in court documents "it was considered likely that [Ranjini] had trained minors to be LTTE cadre, though this was not specifically put to her".
She insists she only ever led female cadres her own age, and that it had been her job, as a school prefect, to teach other students how to hide under their desks during air-raids.
The bulk of Ranjini's involvement in the Tamil independence cause – to which she was aligned for 17 years – was with the Tamil Rehabilitation Organisation, a relief charity for people displaced for the war but which raised significant funds for the LTTE.
As an adult, Ranjini married another fighter, "Akbar", who was a bodyguard for feared Tigers' leader Velupillai Prabhakaran. Ranjini and Akbar had two children before he was killed in conflict in 2006.
In 2008, with the LTTE's resistance weakening, and fearing persecution, including the possibility of being killed or raped, Ranjini fled Sri Lanka for southern India.
The LTTE's resistance was finally, emphatically, crushed in May 2009.
Sri Lankan government forces waged a pitiless bombing campaign on the Tigers' final stronghold in the north, killing an estimated 40,000 civilians, according to the United Nations, as they indiscriminately bombed homes, hospitals and declared safe zones.
In neighbouring India, which is not a party to the refugee convention and offers few protections for displaced people, Ranjini struggled to build a life in safety. A year later, she left that country by boat.
She arrived on Christmas Island on 8 May, 2010, along with her two young sons, Piralkumaran and Kathiraman.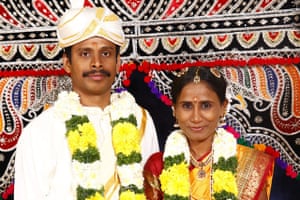 Ranjini freely admitted her involvement in the Tigers' separatist insurgency to Australian immigration authorities. She said she now sought a safe place to raise her sons.
Her claim for protection was assessed and Ranjini, found to be a "widowed single mother … at risk of continued violence", was granted refugee status by Australia: that is, she was found to have a well-founded fear of persecution in Sri Lanka, and Australia could not legally force her back to her home country.
Ranjini was not judged to be a threat to national security. She was granted a visa and released from detention in March 2011. She settled in Mill Park in Melbourne, and met a man, an Australian citizen named Ganesh, also a Tamil, who had arrived in Australia in 2004. They fell in love and married.
But their lives changed on Thursday, 9 May, 2012. The immigration department called. A regular meeting scheduled for the next day had been brought forward to that afternoon. The whole family was required to attend.
At that meeting, Ranjini was told she had been given an adverse security assessment. She was to be taken into detention immediately and indefinitely. Her sons were to be detained as well. Ranjini was given five minutes to say goodbye to Ganesh before she and her sons were led away.
Two days later, Ranjini discovered she was pregnant.
From the confines of Villawood, Ranjini fought her detention at every step. She took her case to the high court, which ruled that her detention was based on an "error of law" and ordered the minister to consider her case.
The Australian government, meanwhile, sought other countries to which it could send Ranjini and other adversely assessed refugees. Up to a dozen countries were approached. Ten refused outright immediately.
Ranjini remained in detention.
Her third son, Paari, was born in January 2013. Her eldest two sons were released from Villawood to live with Ganesh in 2014.
Then, in October, after more than three years in detention, Ranjini was told her adverse assessment had been withdrawn. She was no longer a threat to national security and would be freed. She left detention on 13 November.
Trevor Grant from the Tamil Refugee Council said the secrecy of Ranjini's detention – the fact she was never told why she was being detained, and that she had no right to challenge it – was deeply unjust and psychologically damaging.
"And the fact that it was indefinite, the possibility that she could be held forever without charge, made it much harder.
"How is Ranjini a threat to national security one day but not the next? Nothing has changed in her life. The secrecy is just appalling. It is not reasonable that the government is not answerable to anyone, that they can just do what they like and they don't have to explain anything."
Grant told Guardian Australia Ranjini was settling back into life in Australia "as well as could possibly be hoped".
"She seems remarkably well at the moment. But it hasn't been long, and I think there are going to be some difficult times down the track, difficult times for the whole family."
Ranjini's eldest son Piralkumaran has been diagnosed with post-traumatic stress disorder, a product of his experience of wartime Sri Lanka where he was trapped in a bunker that was bombed, and in which children died around him.
The youngest boy, Paari, has spent his whole life in detention. Before he and his mother walked out of Villawood, he had never known a day of freedom.
"It's his third birthday in January," Grant says. "And he doesn't want toys. He wants a key. He has identified the guards [at Villawood] as the people who ran his life, and they had keys on their belts which allowed them to go outside. All he wants is a key."
No prospect of release
Some of those detained as adversely assessed have been incarcerated for six years, with no prospect of release. In its annual report to parliament, Asio reported that in 2014-15, 24 of its adverse security assessments were examined by the independent reviewer of adverse assessments, former federal court judge Margaret Stone.
Of those 24, six adverse assessments were found to be correct. Six assessments were found to be historical and no longer appropriate; seven were withdrawn based on new information; and three were found to have never been appropriate.
In two cases, Asio's process had been flawed to the extent the reviewer was unable to form an opinion. Asio withdrew those adverse assessments.
The secretive detention regime has drawn international attention. In 2013, the United Nations Human Rights Committee found that Australia's detention under adverse assessment was illegal, and amounted to "inhuman or degrading treatment", because it was arbitrary and Australia had failed to justify people's detention, inform them of the reasons why they were a security threat, or provide adequate legal safeguards.
The committee directed Australia to release those held on adverse assessments on appropriate conditions, and offer rehabilitation and compensation.
"The main reason that the UN found the refugees' detention to be illegal was because Australia had not disclosed enough information to them about why they were considered a security risk," says Ben Saul, professor of international law at the University of Sydney, and counsel for the adverse-assessed refugees in their UN cases.
Without knowing why they are detained, people cannot challenge the case against them, by, for example, demonstrating that the allegations against them are wrong.
Courts, too, are hamstrung, and not able to properly review cases without all the relevant information before them.
Saul says Australia's detention regime is extraordinary by international standards.
"Extreme measures such as indefinite detention are normally only legally justifiable in a public emergency threatening the life of the nation. Australia has not declared an emergency, but has normalised indefinite detention without charge."
He argues the absence of any transparency has been effective in deterring public interest in the cases, "since invisible detainees are hard to care about".
"This is one of the more sinister consequences of the regime: how our society has become anaesthetised or desensitised to one of the gravest violations of liberty known to the rule of law and liberal democracy: indefinite detention without charge, evidence and effective judicial control. The normalisation of such an extreme measure in turn blunts our resistance to other kinds of violations. It is a slippery slope. Treating people terribly is the new normal, and barely registers in the public conscience any more."
Australia routinely flouts international law, Saul argues, and is defensive against criticism over breaches.
"Australia agrees with international law only when it supports Australia, and disagrees with it whenever it doesn't. This really means that Australia is rejecting international law as a legal system. Law is not law if each country gets to make up its own version of what the law is."
The president of the NSW Council for Civil Liberties, Stephen Blanks, says while many of the refugee adverse-assessed were being released from detention, the same was not true for the non-refugees.
This group is given no information about their detention, or the threat they allegedly pose to Australia. They have no avenue, Blanks says, to challenge their detention.
"The process is completely unfair: to be deprived of liberty without reason, and without right to challenge, is deeply unfair. We now have a system in Australia where people are deprived of their liberty on national security grounds in circumstances where they are not accused of any criminal offence. We've breached a fundamental rule-of-law boundary."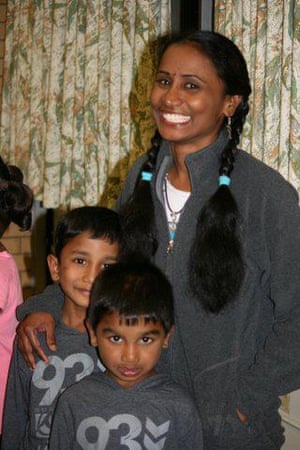 Blanks says if there are national security concerns about a holder of a visa, they can be subject to surveillance, or their communications restricted and monitored.
"Deprivation of liberty is an extreme remedy and cannot be justified. These are people who've come into Australia properly, in many cases they have married Australian citizens, they have Australian citizen children. We are destroying family units through this policy.
"We live in extraordinary times, but that is not a reason to give up basic freedoms. You shouldn't lock people up as a precautionary measure, particularly when you do it for secret reasons, that is the hallmark of a totalitarian regime, not a democracy."
As for Ranjini, her future remains uncertain, and her dealings with the immigration department are unfinished.
She doesn't know yet whether she will live in Sydney, where her older boys and husband have tried to build a life in the shadowlands of her detention nearby, or return to Melbourne, where once they had a community, a church and a place.
Having battled depression in detention, she is concentrating for the moment on restoring her health, and on the simple joys she was denied for so long, such as walking her boys to school.
• Full names have been withheld at the request of Ranjini and her family.
Source: A phonecall, a meeting, then indefinite detention: the refugees at the mercy of Asio | Australia news | The Guardian